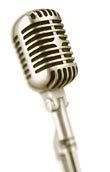 Among the many delightful things that the delightful-in-and-of-themselves K & R have turned me on to is
karaoke
. In case you don't know, karaoke is the ancient (1970's era) and oft-scorned and ridiculed Japanese art of standing up on a stage in front of people and singing along to pre-recorded music. It may be responsible for spawning the horror that is "American Idol" but I choose to live in denial and refuse to acknowledge this.
Anyway, we have been doing a lot of karaoke lately after going out for dinner at the
Proud Lion Pub
a couple of weeks ago and hearing singing coming from the bar. After dinner we went over to gawk with no intention whatsoever of participating. We wound up having so much fun that we stayed until closing time. Since then, we've been averaging about one karaoke night a week, usually at the Proud Lion but we have ventured out to other locations with mixed results. There was the time at a resort bar on St. Pete Beach that was kind of old and creepy. Think the
Black Lodge from "Twin Peaks"
if it were in Florida instead of the Pacific Northwest. We also tried an Irish pub up the street from that place that was just a big frat house. Half the people were interested in karaoke, the other half were engrossed in taking turns clobbering a punching bag machine with everybody very, very drunk. We've also tried the Green Parrot on Dale Mabry a couple of times. The first time the place was packed and the crowd seemed to be comprised of several large groups of people. We went there last night and there were no groups and it was pretty empty so we didn't stay long. We'll keep returning to our "home base" at the Proud Lion though. For one thing, people know us there and we know them so there's a comfort level. This familiarity also breeds a supportive atmosphere, which can not be discounted when you're engaging in an activity where there's such huge potential to come off looking like an ass. The playing field is pretty level there, as far as talent goes. There are a couple of exceptions, one being a guy who goes by the name "H2O" who is seriously talented. Having him perform there is like having
Frank Thomas
on your softball team; it's fun to watch him launch home runs into the stratosphere until you realize you have to go up there after him and try not to dribble a grounder to the second baseman. But for the most part, we're all ham-and-eggers.
The three of us have very distinct individual approaches to how we perform. R has been accused of (and readily admits to) rehearsing in her spare time. She's also always the first one to get up on stage and get things rolling. For all the crap we (meaning mostly, I) give her about being timid (R is the one who will always poop a party by pointing out and actually obeying trivial things like signs that say "NO TRESPASSING" or "ROAD CLOSED"), she's invariably the boldest of the three of us. Whether it's deciding to make a film, quitting her comfortable job to devote more time to creative pursuits or singing a Pat Benatar song in front of strangers, R is always the one who dives in first.
K is kind of shy and a little less than confident in her karaoke skillz. She's not afraid to get up there but she holds the microphone away from her face and doesn't look or sound like she feels entirely comfortable. Which is interesting because in "real life" (whatever that is) K doesn't seem to lack self confidence in the least and is easily one of the most fearless people I have ever known. So in a way, it's really kind of endearing to see what is obviously a very small side to her personality.
Me, I don't sing. I'm a belter. I'm smart in that I know my limitations. I can carry a tune a little bit and can keep time so I mostly pick old soul, rock and roll or blues numbers that I can growl and grunt through in three and a half minutes or less. I'll do "Long Tall Sally" or "Mustang Sally" or "Lay Down Sally". Basically, I limit myself to songs about Sally. You get the idea.