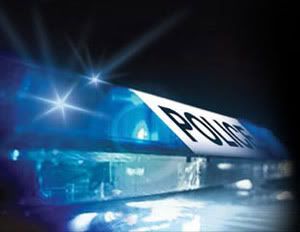 Because you know you love this stuff...
Why Don't We Do It In The Road?
Well, because we'd probably get arrested, dumbass. Like these two world champions:
'One couple's passionate interlude came to an end, quite literally, at the hands of the Hillsborough Sheriff's Office. Deputies arrested Richard J. Augat, 26, and Denise J. Mignone, 44, early Friday on charges of disorderly intoxication and lewd and lascivious behavior. Someone spotted the couple having sex in the parking lot outside the LA Hangout at 16411 N Florida Avenue in Tampa. The couple didn't stop, even when deputies arrived. Two deputies had to pull them apart, said sheriff's spokeswoman Debbie Carter.' --St. Petersburg Times
For those of you who've never been to Lutz (pronounced "Loooots"), it's difficult to explain how being there might cause a couple of people in love to be utterly overwhelmed with passion to the point where they completely lose all their inhibitions. It's, uh, a lot like Paris. Yeah.
Brick (dah-da-dah dah) House
'Chango Peeler, 26, of Largo stopped breathing and died in police custody about 9:15 a.m. Friday after several baffling minutes during which he crashed through two glass windows, ran around in his underwear and struggled with a Tampa police officer.
Friday's chain of events began about 9 a.m. after Jim Crank, a member of Zion Lutheran Church, returned home from watering plants on parishioners' graves at Woodlawn Cemetery.
Confronted by a man, Peeler, screaming "Help me! They're gonna kill me!", Crank offered to call police, but Peeler was unmoved. "He was wild. Lord have mercy," Crank said. "His eyes popped out of his head."
Peeler ran toward Crank's porch, and Crank tried to grab him. A man across the street yelled for Crank to leave him alone for his own safety and called police.
To Crank's astonishment, Peeler dove head-first through a window into the living room. He smashed several angel figurines atop the television as he landed and left his shorts at the windowsill, Crank said. As police called to Peeler, he crashed through a rear bedroom window and ran from Crank's house through an alley, police said.'
A man working in the neighborhood waved a brick at Peeler in an attempt to detain him, McElroy said. In the commotion, the brick-wielding man disappeared, McElroy said. --Tampa Tribune
Ok, so we may have lost a nutjob but gained a (albeit, ineffectual) superhero in the process. Metropolis has Superman, Gotham City has Batman and now Tampa has...The Brick Wielder. "Criminals are a superstitious, cowardly and lazy lot so my disguise must be able to strike terror into their hearts. I must be a creature of the construction industry, hard, heavy, often reddish in color but not necessarily so...I know! I shall become a brick! Or at least carry one around with me to wave in a menacing fashion."