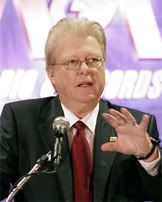 I'm just wondering, how much do you have to hate gay people to find humor in the untimely death of a young actor who played one in a movie?
I'm guessing we'll find out as John Gibson becomes the latest contestant in the "Oops! Now I am very, very sorry" sweepstakes, the only game show where just about everybody cashes in except for the person playing it.
I don't have any answers. Like I said, I was just wondering.