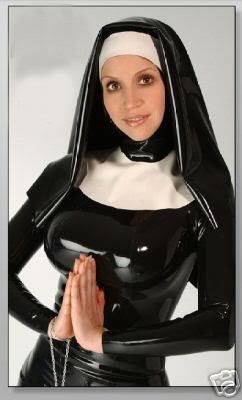 Oh boy!
In another one of those
kooky quirks of scheduling
, Tampa played host to both the
Women of Faith Infinite Grace
conference and the
2008 FetishCon
this past weekend. One event featured appearances by Eden Wells, Kumi Monster and RubberDoll, the other featured Patsy Clairmont, Sandi Patty and Marilyn Meberg. I'll let you
Google
those names and figure out who was where but the real delight is in knowing that these people and their fans were both occupying the same relatively small space at the same time. Event organizers and venue bookers will both say that Tampa is a large enough city now that having multiple events that draw large and disparate crowds at the same time really shouldn't be an issue. And they're probably right but... Women Of Faith was held at the St. Pete Times Forum, which can hold up to 20,000 people and FetishCon, which draws over 2,000 people, was held at the Hyatt Regency about a half mile away. There are four, maybe five, hotels and about a dozen or so restaurants that you could reasonably classify as within walking distance of those two sites. Factor in just how dissimilar these two groups are and you have a recipe for awkward social interaction comedy gold, baby! I'm just picturing two groups of people, clutching either bibles or leashes with people attached to them, waiting for the streetcar to Channelside or for a table at
First Watch
: "Umm...that's okay, you go ahead. No, really. Please."