Ok, maybe I've found my next creative pursuit after all.
Recently I tagged along with some artsy-fartsy friends to
this place
. The way it works is you buy something, paint it, they do crazy stuff to it with an oven and some voodoo. One week later you come back and take it home. This is known as "ceramics". It's where coffee cups, doggie dishes, Christmas decorations and lawn gnomes come from. When I was a kid my mom, aunt and grandmother all did it but I never participated. However, it's apparent that I must be genetically inclined for ceramics mastery because VOILA!: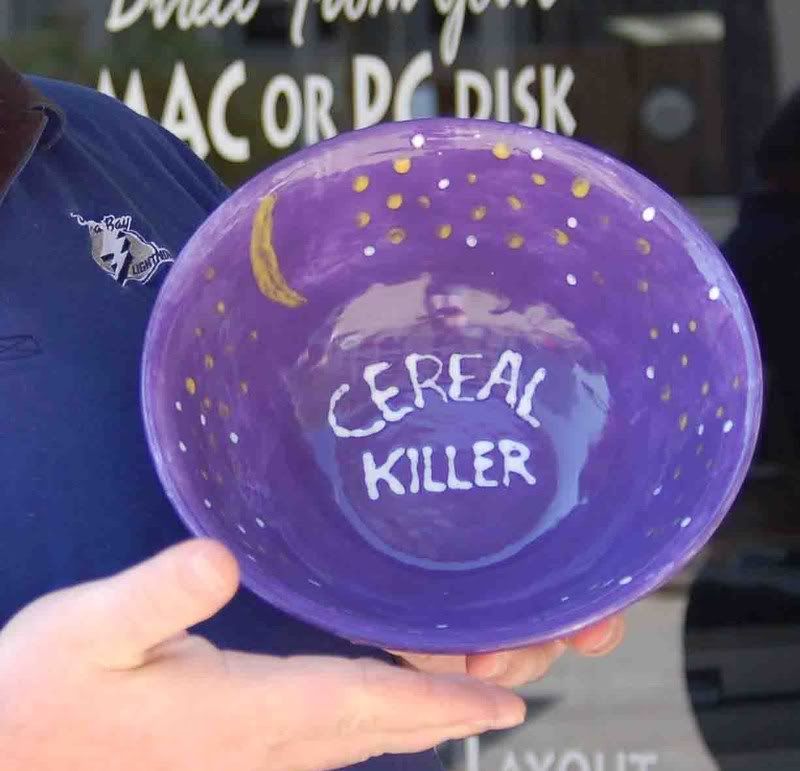 See, it's a bowl to eat cereal from. I like to eat cereal late at night so it's got a late night theme with a moon and stars and shit on it. Here's my special recipe for late night cereal...
CLARK'S SPECIAL LATE NIGHT CEREAL RECIPE
INGREDIENTS:
Cereal
Sugar
Milk
INSTRUCTIONS:
1) Pour all ingredients together into cartoonishly enormous homemade purple ceramic bowl
2) Eat it (NOTE: I recommend using a spoon)
Feel free to print this out and stick it on your fridge. I promise I won't sue.
As you can plainly see, this is the perfect bowl for this special recipe! When I finish eating all the cereal, I'm rewarded with the clever play on words painted at the bottom and I go to bed with a chuckle.
Is there a better way to go to bed at night? I submit to you that there is not!

If you don't have one (which you don't because I only made one) and want one (and honestly, how could you not at this point?), send me $37.50 and I will make one and send it to you. I will even personalize it at no extra charge!