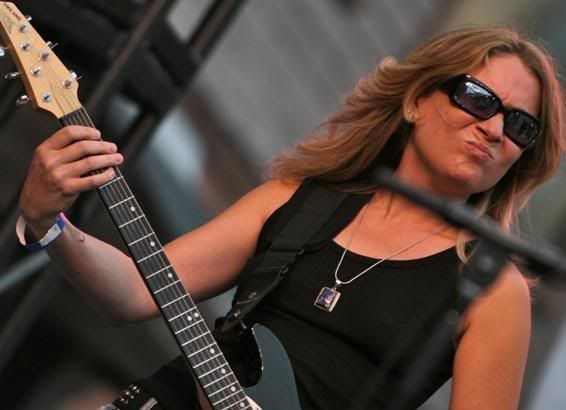 Ok

, first of all I am aware that I am not the first person who found a musical artist that you've probably never heard of and had the idea to write about it in their blog (can you even imagine how rich that person must be? I'll bet they own a car!). However...
This is
Jen Leigh
and I accidentally found her on line late last night while goofing around on

MySpace

. If you like women who play guitar (and seriously, who in their right mind doesn't?), you owe it to yourself to check her out. Plus she loves dogs which would be enough for me to be a fan even if her music stunk, so it's a bonus that it doesn't. She's played with lots of different artists, including Michael Jackson, George Clinton & P-FUNK, Kelis, Sweet Honey in the Rock, Merl Saunders & the Rainforest Band, Vicki Randle, Cindy Blackman, Chuck Rainey and Buddy Miles among others.
This is her solo stuff. I'm not sure if it's rock with a funky edge or funk with a rock edge or edge with a rocky funk. I'm not very good at labelling stuff. But it's good music and I really, really like it.
Therefor, I humbly submit my official

recommendation

that you check her out and if you like her music (and I think you will), you can
buy it here
.