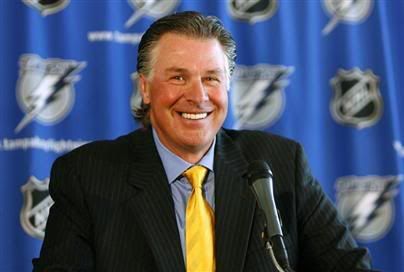 There seems to be some sort of cosmic law that requires that at all times, one of Tampa Bay's three major league teams must be the most laughably inept in it's sport. It would appear that it is the Lightning's turn...again...to keep the universe in balance as
management has fired head coach Barry Melrose after 16 games.
Just because I thought hiring Melrose was a bad idea in the first place doesn't mean that I'm happy about him being fired. Because as a ham-and-egger off the street (Joe the Fan, if you will), there's absolutely no consequence whatsoever to me being wrong (or right) about the team's personnel decisions. That's one of the great things about being a fan. The professionals who are paid to make those decisions, however, are a different story. They don't get the luxury of being pleasantly surprised if they're wrong. In this case, they fired a Stanley Cup winning coach (albeit one who had just finished with the worst record in the league) and presumably bypassed other candidates to hire someone who hadn't coached at any level in over a decade...only to fire him after playing less than 20% of one season. Point being, if it took so little time to figure out it wasn't a good fit, you have to wonder if the pre-hire vetting process was as thorough as it could and should have been. Again, that's why the professionals make the big bucks.
Considering it took only 12 games to dump Matt Carle, the focal point of the trade that cost the Lightning hard-working all-star defenseman and fan favorite Dan Boyle, fans probably shouldn't be too shocked if Marty St. Louis gets traded in the middle of the next unsuccessful power play. I can see the press release now...
"This was a tough decision to make. Marty is a good man and we have a great deal of respect for him and all he's done for the organization over the years. We wish him nothing but success. However, we've had the man advantage for nearly half a minute now and the results have been unacceptable. The players have to understand that we need to be better. Hopefully this change helps us for the remaining 1:36 of Wade Brookbank's hooking penalty."



Of course, an organization that turns to the
porn industry as a model for building it's marketing campaign
probably isn't one that's looking to set standards for good judgment.