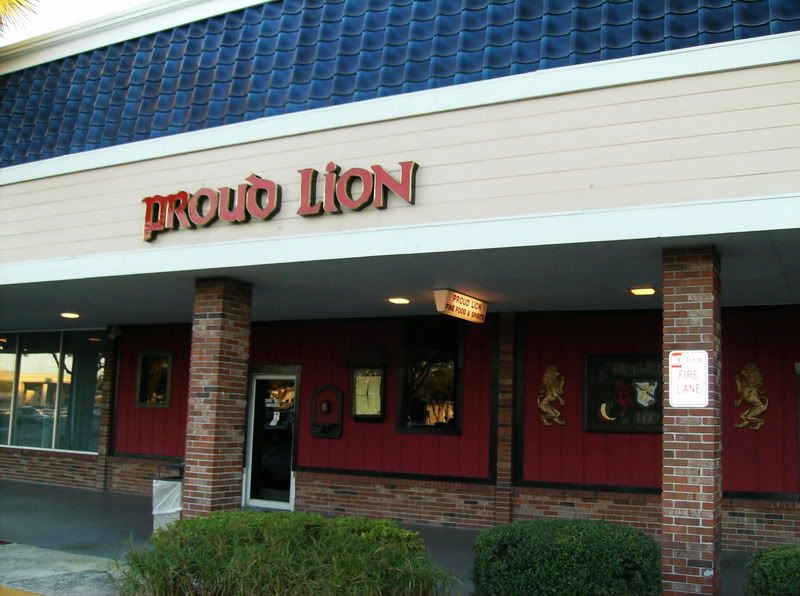 It would appear that one of my all-time favorite Tampa hangouts is no more. The legendary Proud Lion Pub, which had been around for almost 40 years is closed. The guy who owned it for the last five months or so is probably sitting somewhere (most likely, another bar) shaking his head sadly and blaming the economy for this unfortunate circumstance. But if he really wants to see who's to blame, all he has to do is raise up his head and look in the mirror.
I don't know what it is about
jackasses who think they know the bar & restaurant business
but there sure does seem to be a surplus of them. A note to future jackass wannabe

entrepreneurs

: hanging around in bars and restaurants does not qualify you to own and manage one. The only way to be successful in that racket is to bust your ass around the clock, every day of the week. Don't believe me? Ask the owners of all the successful grazing areas that you enjoy and see if their stories don't sound almost

identical

. The only thing this particular jackass, whose name is Clark Briggs (yeah, I know. Seriously, how messed up is that?), put effort into was driving away good people, loyal customers and equally loyal employees. Food that had been excellent started tasting like stuff that Banquet wouldn't serve in their

tv

dinners. Waitstaff that had been friendly and skilled were replaced by people who were utterly and entirely incompetent in all areas. Live entertainment was eliminated in favor of a couple of new televisions (all jackass

restaurateurs

are of the belief that the inclusion of at least two televisions automatically makes any place a "sports bar", even if those televisions are frequently tuned to re-runs of "Law & Order"). A person I know did some work for the Proud Lion Pub, in large part because she liked the place so much (from the good will earned by the previous owners and staff), and she's now left holding the bag for expenses incurred, which is obviously money she'll never see.
Sure, shit happens and things are tough all over. But it's just a shame because this is yet another instance where it simply didn't have to happen. No business, and certainly no restaurant, sticks around that long if they aren't doing things the right way. And all it took to wipe that away was a few weeks of doing things the wrong way. To destroy an establishment that was so well...um, established...in less than half a year is pretty remarkable, in a way. Kind of the same way that
pissing away a $5.6 trillion budget surplus in a year
is remarkable.