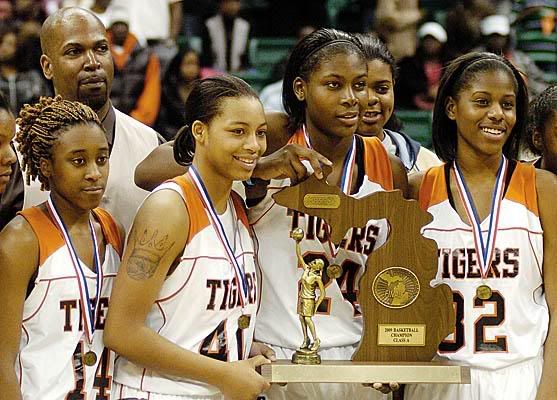 My high school

alma

mater, the Benton Harbor High School Tigers,
won the Michigan state championship in women's basketball by defeating Livonia Franklin 60-48 on Saturday
.
Basketball, both men's and women's, has always been a big deal in Benton Harbor. When I was there, some kids from other schools would rather come watch the Tigers play than watch their own team. But for whatever reason, in spite of how ridiculously talented our teams were, they couldn't seem to get past the

regionals

and we never won a state championship.
A state championship is a pretty big deal for Benton Harbor because there isn't a lot to celebrate there. While Benton Harbor is the home town of a handful of notable celebrities (
Gene Harris
and his daughter
Niki
,
Ernie Hudson
,
Arte Johnson
,
Sinbad
,
Julie Krone
among others), it's identity, at least since just after the middle of the 20

th

century, has been largely
defined by poverty, racial strife and urban decay. As of the 2000 census, the median income for a household in the city was $17,471, and the median income for a family was $19,250.About 39.6% of families and 42.6% of the population were below the poverty line, including 52.5% of those under age 18 and 29.7% of those age 65 or over. In August of 1966,
National Guard troops were dispatched to Benton Harbor
to quell race riots that began after a police shooting. In June 2003, riots broke out over two days when black motorcyclist Terrance

Shurn

, being chased by a mixed-race police officer, crashed into a building and died. Riots also were reported in 1960, 1967 and 1990. An excellent book that examines Benton Harbor's problems and it's relationship with middle class-to-affluent "twin city" St. Joseph is "The Other Side of the River" by Alex

Kotlowitz

.
So while I'm glad to not be there anymore (I've only been back to visit a couple of times in the last 20 years), I'm also very happy and proud to say I grew up there. Largely because I believe that being white and growing up in
a city where the population is approximately 92% black
provided an opportunity to develop a fairly unique

perspective

in how people from different cultures interact and I'll always appreciate that opportunity. Now I get to also be proud of and happy for the ladies who finally brought home the hardware to prove that the Tigers kick ass.