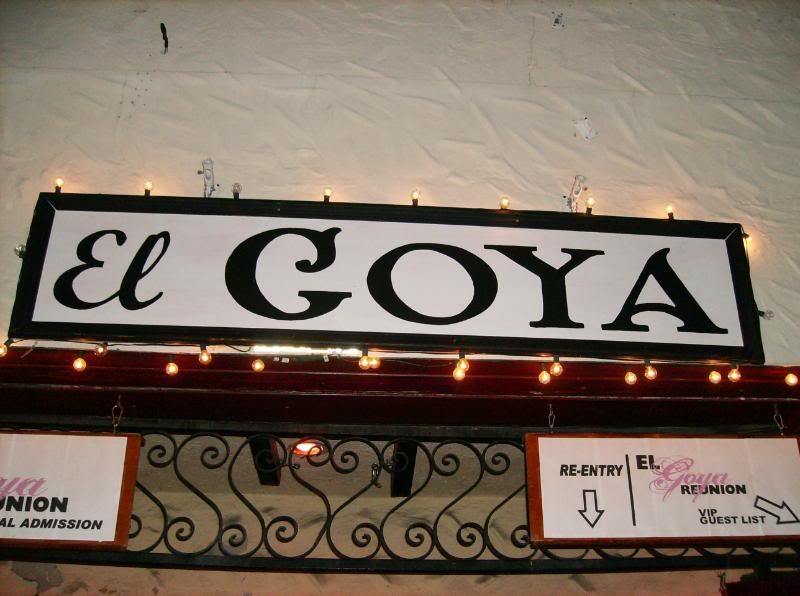 "Welcome heteros, homos and freaks alike. Does that cover everybody?"
Yeah, pretty much. And with that greeting from hostess Melanie Minyon, I found myself in the audience as the cast of the legendary El Goya's drag shows reunited in Ybor City last night.
Bad news for some of those in the ultra conservative right: I am living proof that it is impossible to be turned gay. I participate in community theatre, am willing to crossdress (for a cause) and after last night...still nothing. Sorry boys.
So why was I there? Because, quite simply, the opportunity to see the North American Drag Queen in her natural habitat is a highly entertaining experience and one that should not be missed. If you've never been to a drag show (and you're not put off by bawdy, raucous spectacle for the sake of bawdy, raucous fun) you really should go.
Plus, this was a historic occasion. In the early 1980s, El Goya was the first (and basically, only) gay nightclub in Ybor City, and the premiere spot of it's kind in Tampa Bay. The drag shows were immensely popular and drew audiences of all kinds to the club. But with the nature of nightclubs being what it is, El Goya didn't last forever and was no more by 1990. It went through a couple of different incarnations and is now known as Czar.
The reunion was organized by performer Stephanie Shippae' with apparently considerable support and assistance from the management of Czar. Shippae' along with Melanie Minyon, Gilda Golden, Bobbie Lake and Candy Kiss brought back the best of '80s era Ybor for a couple of hours. There were even .25 drinks! And it was an absolute blast.
All five took the stage for an opening number around 11:30. The show was supposed to start at 11, but nobody expected it to start on time. What fun would that have been? Melanie Minyon kept the crowd's attitude adjusted throughout as Gilda Golden pouted sternly, Bobbie Lake let it all (well, almost all) hang out and Candy Kiss literally brought down some of the house, as one too many spins on a sweaty stage sent her toppling into the backdrop. A temporary glitch in the sound system required Minyon to kill extended time with more banter with the audience, which, honestly, is the best part of any drag show. The genuine affection between these performers and those in attendance was evident when Stephanie Shippae' left the stage three different times during her number to hug as many people as she could reach. The show was capped with a touching and very well done tribute to Kim Ross, another El Goya performer who has since passed away. All five were in fine form and it's hard to believe they've been at this as long as they have. There were hints that while this may have been the first reunion, it's probably not the last. Here's hoping that's true!