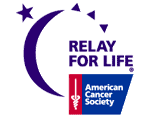 Okay, here it is: I need you to send me some of your money.
Here's a link
. Hey, thanks!
And for those of you who might need a little extra fleshing out of the background before you pull the trigger on a request like that...
As you may know,
last year I was the captain of a Relay For Life team
. Many of you contributed to that effort and for that I am sincerely and eternally grateful.
However, apparently cancer can't take a hint and figure out that nobody wants it around and for the sake of good taste, just put it's stupid, ugly, ill-tempered self into remission on it's own. So I'm back again, appealing for your assistance in trying to continue that fight.
I know times are tough, believe me. But if you can spare even a buck or two, well, honestly, that would be great. It's a cliche, but every little bit does help.
Here's the link
where you can make a secure on-line donation. You can also find more information on Relay For Life, the American Cancer Society's signature fundraising event.
Seriously, thank you very much!