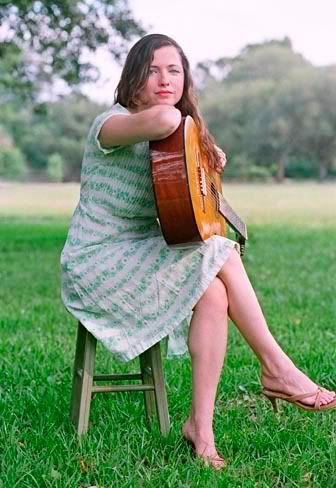 I'm beginning to think it's entirely possible I just have a thing for women who play the guitar (exhibits A and B). That, or it's just a coincidence that I've recently discovered so many talented musicians who just happen to be female guitarists. Either way, it's always exciting and rewarding to find a new artist and explore their music. My latest find (and I'm not saying that like I'm Clive Davis, although that would be awesome) is Rebecca Zapen, who performed at Tres Amici on my birthday (and I'm not saying that like she was booked to perform for my birthday, although that would be awesome as well).
Rebecca is originally from the Jacksonville area but now calls the Tampa Bay area home, where she is working on her fourth album. Here are Rebecca's answers to some questions I asked her regarding her music and her thoughts on the Tampa Bay arts "scene"...
ME (my blog, I get to be in bold and italics): I know you're originally from Jacksonville. What brought you to the Tampa Bay area?
HER: I am engaged to jazz pianist Jeremy Douglass, of St Petersburg. When we were courting long-distance and realized it was serious, we recognized that one of us would need to move. Both of us were well-established musicians in our respective cities so it could have gone either way. I have visited many cities, but none of them ever beckoned to me the way St Pete did. I'd always said that I would only move for one of three reasons: love, education or a job. A big love will make you do big things.
ME: What, if anything, had you heard about the local arts "scene", especially in regards to music, before you got here?
HER: I hadn't really heard anything prior to playing here. I'd played a dance hall gig for Swing Time at Centro Asturiano years ago, and it was a phenomenal experience, but I knew nothing about the "scene". It wasn't until Stephanie Carpenter, who was hosting Girls With Guitars at the Whistle Stop Grill, invited me to come down last summer that I was again exposed to the Bay's scene. I was amazed at the response and receptiveness of the audiences in terms of being great listeners and their interest in my albums. In my first two visits to the Bay area in 2008, I had performed at Whistle Stop Grill, WMNF, The Globe, and Skippers Smokehouse. I was hooked, and in love, so make that doubly hooked.
ME: And now that you're here, is it better, worse or about what you expected?
HER: It's at least as good as I expected, and in ways, better. Considering the economic concerns we all live with, I feel very grateful that Jeremy and I are able to make our living as musicians. I have been able to play at a number of venues in the area, but still have so much more to learn about the area, and its venues and performers.
ME: What do you hope to accomplish for yourself as an artist here?
HER: Back in Jacksonville, I found myself wearing three main musical "hats": classical violinist, jazz vocalist/violinist, and songwriter (in addition to other freelance work such as regional orchestral work, playing in hospitals and care facilities, recording sessions, and private violin instruction). I want to utilize my versatility as a multi-instrumentalist who plays in the classical, jazz, and folk genres. As a songwriter, I want to find my audience that is touched by the mellow, quirky songs I write (one listener called it Existential Folk), and be a supporter of my fellow musicians.
ME (apparently "scene" obsessed, for some reason): How important is it for an artist to be part of a "scene" or "movement"?
HER: Some people can work in a solitary fashion, but I am more of a social creature. I gain great strength in my friendships with fellow musicians and fans. We can encourage each other when we have doubts or lack motivation, can recommend venues and opportunities to one another, and of course inspire each other through our music either as listeners or collaborators.
ME: (standard music interview question) Who would you say has influenced you as an artist?
Classical music was my only influence until I was 11, when some Billy Joel slipped through the cracks as I carpooled to ballet class. So I would say my classical musician parents are a big influence. In high school I listened a lot to The Roches, The Beatles, and Simon & Garfunkel, and that cemented my love of harmony. In college, while majoring in music and biology, I had my first exposure to jazz, and specifically bossa nova. Even when I'm writing a 'folk' song, it could easily be a bossa nova with altered chords. Other artists that have influenced me are Antonio Carlos Jobim, Suzanne Vega, Stephane Grappelli, and Jonathan Richman.
ME: You write your own songs, handle the musical arrangements, produce your own albums and you play several instruments, while I have to consult the instructions before opening a jar of mustard, yet I don't hate you. Why is that?
HER: I'm with you on the jar of mustard. You'd think I'd have a better grip. As for why you like me? First, thank you for that. I think that my music comes from an honest place. I'm not afraid to share my feelings and experiences. I'm also open to being silly with my music as well. In "Japanese Bathhouse" I sing about feeling ogled by the other ladies in a Japanese bathhouse. You can see my silliness in some of my music videos too, such as "Smile", "I Have A Little Dreidel", and "We Didn't Bother".
ME: Anything else you'd like to get out there?
HER: If this is published in time, I'd like to encourage Tampa Bay area music lovers to come out March 8th to the Whistle Stop (Safety Harbor) where I'll open for Maine songstress Emilia Dahlin. I also want to mention I'll be recording my 4th album in the coming months, which should be completed by the end of the year. Also, I just want to say thanks for interviewing me. I'm glad our paths crossed at Tre Amici.
Learn more about Rebecca, and listen to her music at
her official web site
!