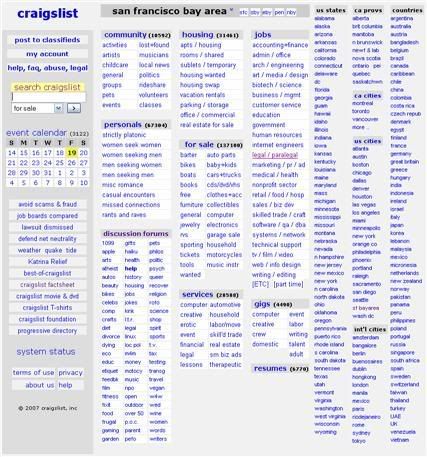 I don't go to many Tampa Bay Buccaneers games. For one thing, the tickets are cost prohibitive for me. While you can still see a Rays or Lightning game for around $10, you can't get into Raymond James Stadium for less than $42. For another thing, football is a distant third favorite after baseball and hockey for me. Lastly, I've always felt that the best way to watch any football game is on tv. But I was given two free tickets, which doesn't happen often, I haven't been to a Bucs game in quite a while, this one had playoff implications (at the time) and I have a feeling that is probably going to be the last time that Buc legends (and future hall of famers) Derrick Brooks and Ronde Barber suit up for the home team. Maybe ever.
The problem is, that between the holidays and whatever else was going on, nobody I would normally ask was able to attend. Rather than go by myself, I had the bright idea of advertising on Craigslist for a companion.
My experience with Craigslist is very limited, having only ever used it to advertise a yard sale we did last year for Relay For Life. That's not what most people use it for. Craigslist has a
nasty reputation for being a free marketplace of prostitution
and as
the world's largest online meat market singles bar
. It's not that I was unaware of these things (I read stuff, you know), just that I didn't have first-hand knowledge.
My intent was to find a woman who owuld like to go with me because, frankly, I simply prefer the company of women. Concepts like male bonding and 'guy's night out' hold no appeal to me. If I'm going to make the choice to spend an extended period of time with another person, that person is not going to smell like
Axe Body Spray
.
Being a rookie in the online personal advertising game, I looked around for a while to see what the standards are.
In two words: Holy shit!
A typical ad from a man trying to meet a woman on Craigslist looks kind of like this:

Single professional male seeks to meet a woman to share mutual interests, such as fine dining, live music and outdoor recreation. In order to demonstrate my sincerity and prove that I'm a completely normal guy, here's a close-up photograph I took of my genitals.
In order to get the true gist, you'll need to imagine the photograph. And every third word misspelled.
I was feeling kind of intimidated. No, not by the picture(s), but by the overall lack of discretion. Discretion is really not an ingredient in Craigslist stew. When I went to post my ad under the heading of "men seeking women", I was given six choices for a specific category


missed connection - Not applicable

rant and rave - Not applicable, that's what my blog is for

strictly platonic (friends only) -Well, how strict is 'strictly'?

dating, romance, long term relationship (ltr) -Definitely not applicable! Slow down!

sex with no strings attached (nsa) - Presumably not applicable, since I'm not entirely familiar with all of the policies at Raymond James Stadium...

erotic services ($5.00 per post) - Not applicable, since I'm not this guy:
There's no "let's go out and, who knows, maybe we'll hit it off" category. I guess ambiguity isn't all that important on a site where so many people are seeking that perfect fully-functional transsexual dominatrix.
So, left to my own devices (as it were), I picked "strictly platonic" and wrote my ad:

Ok, here's the deal: I have two tickets to see the Buccaneers play the Oakland Raiders this Sunday but I don't have anyone to go with me. It's the holidays and I would like to spend some time in the company of an attractive and intelligent woman with a sense of humor. That's all. Well, maybe we could go get chicken wings or something afterwards. There are some minimum compatibility standards (football games last several hours; no point in pursuing this if we're going to make each other miserable, right?)
* You should be a Bucs fan.
* You should not be an actively involved member of any religious cults. At least not any that routinely engage in ritual sacrifice.
* If you have pets, you should not be constantly dressing them up in silly costumes and taking pictures of them (this one is actually a pretty good rule to follow in life beyond this particular outing).
That's really it. If those standards aren't too high and you think this might be how you'd like to spend a Sunday afternoon, please write and we'll see where it goes from here. I'll be happy to honestly answer any and all questions you might have. Thanks!

I got two (2) responses.
It worked out favorably. But i
f you're thinking about using Craigslist for whatever you're marketing, go ahead. I highly reccomend it as a free resource that offers a central network of online communities and forums on various topics that draws interest from a wide variety of demographic groups. Just don't forget to have a picture of your genitals handy.