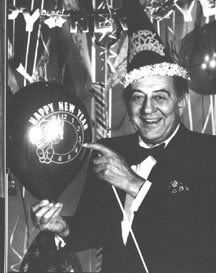 Everybody says the key to being really successful is fulfilling needs, especially those needs that people don't even know they have. Well, here's a golden opportunity that some self-starter should jump all over: Happy New Years* music.
Think about it. The official holiday season starts with Thanksgiving, ends with Happy New Years* and includes all the festivities in between. Yet, the music is completely dominated by Christmas songs. There are a few Hanukkah songs and Kwanzaa songs (no Thanksgiving songs, though, because it's impossible to sing when you're planted on the couch in a gravy-induced coma while the athletic pageantry of Detroit Lions football drones on in the background) but other than "We Wish You A Merry Christmas", in which Happy New Years* gets mentioned one time to every three times for Merry Christmas, the only song there is for Happy New Years* is "Auld Lang Syne", which can only be played once. And that's at exactly 12:00:01 on January 1st. If you miss it then, you have to wait until we take a whole 'nother lap around the sun.
Not only is there only one Happy New Years* song, there's really only one Happy New Years* musician, Guy Lombardo, and he's been dead for over 30 years. That's some serious exclusivity there. Not bad for a Canadian, eh? Even if Elvis had been successful in his effort to have his pal Richard Nixon launch the Beatles in a rocket aimed directly into the sun, he still wouldn't have had the rock 'n roll market sewn up like Guy Lombardo. The only other musician who has made a career out of one friggin' song and been at least somewhat culturally significant is Chubby Checker. Well, and Lipps Inc of course.
I think there's room for an industrious, creative new performer to grab at least a share of that very precise and particular spotlight. It'll take hard work and dedication, but the potential payoff could be huge. Think about it, Happy New Years* is not hindered by cultural boundaries like race and religion. Even Chinese people who won't celebrate the end of The Year Of The Rat until February will still be happy to acknowledge and celebrate the end of The Years Of The Ass without worrying about betraying their heritage. And the timing really couldn't be better, because THIS year, people are more eager to embrace new things than ever before; new leadership, new economic strategies, new episodes of "Lost". Strike while the iron is hot! is what I always say when I heckle blacksmiths.
It's all there, baby, a low-hanging plumb for the picking.
* The correct name of the holiday is Happy New Years and it should always be represented as such. In the photo, Mr. Lombardo is expressing amusement at a faulty balloon that somehow slipped past quality control and made it all the way to the big time at the Waldorf=Astoria grand ballroom. Shortly after this picture was taken, Mr. Lombardo burst the balloon with a lit cigarette which he extinguished by grinding it into the forehead of the hotel's banquet manager, a man whose effeminate manner had offended Lombardo in previous dealings. Later that night, he had that man fired for the unfortunate gaffe, then drove to the man's mother's home and made love to her while two members of his Royal Canadiens forced the man to watch. So say it correctly, you.