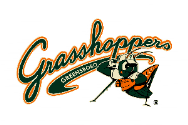 The fact that this story is 100% true is one of the reasons why I LOVE minor league baseball...
(From
WTSP.com
) Greensboro, NC -- There was a bit of embarrassment during the
Greensboro Grasshoppers
' loss Tuesday afternoon.
Master Yogi Berra, a bat and ball fetching dog for the Class-A team, was ejected after relieving himself on the field during the fourth inning of the Hoppers 9-6 loss to Asheville.
A spokesperson for the Grasshoppers says that Yogi was attempting his usual between inning promotion of fetching a ball shot to deep center field. While running back to homeplate, he stopped and relieved himself on the field. This prompted homeplate umpire Jason Hutchings to eject the dog.
Owner Donald Moore says Yogi was not feeling well today battling a stomach virus. "When you gotta go, you gotta go," said Moore, the Grasshoppers' Team President and General Manager.
Yogi is believed to be the first dog ever ejected from a professional baseball game.
"Yogi's had a tough start to his season, and I hope this doesn't get him down. He clearly couldn't control himself out there. He's such a competitor and he wanted to do his duties as he's been trained," continued Moore. He left the ballpark in the 6th inning with the Team Veterinarian Jason Streck, of the After Hours Veterinary Emergency Clinic, and is listed as day-to-day.
"We all hope Yogi feels better soon and he returns to us ready to entertain our fans. You know, he's volunteering his time out there, so I hope he doesn't get fined too much (for his ejection). I don't know the Rulebook like the back of my hand, but apparently a dog can't do his business on the field. Let's hope this is an isolated incident, and Yogi can learn from this experience," said Moore.