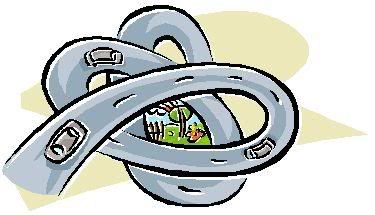 Denis over at
My Tampa Life
has a very informative report on the
traffic delays
that will result from the shifting of traffic to the new northbound lanes on I-275 starting tonight (Friday). Go there now for a summary of what's in store if you're planning on motoring about in your automobile!
In addition, the following conditions may or may not exist as well:

10 pm Friday to 3 am Saturday: Drivers traveling from any direction whose eventual destination is the Mons Venus should be utterly ashamed of themselves. Is that...is that a baby stroller in your back seat? Man, that's just sad. Not your finest moment, is it sir?


9 pm Friday: 1 to 2 (of 3) lanes will also close on southbound I-275 from Armenia Avenue to Lois Avenue, but only during even numbered minutes divisible by 7 and if your middle name has a U, but not an M, and/or the sum total of all single digits in your social security number add up to less than 55 but greater than 61.


10:23 pm Friday: The Ashley Drive/Scott Street exit ramps (Exit 44) in another dimension are made of rainbows and never, ever close. Cars are made of candy and are powered by dreams. Everybody is a rock star and a fashion model and a professional athlete and a wizard. This varies slightly from our dimension, where everybody is screwed, specifically everybody who thinks they want to access the Ashley Drive/Scott Street exit ramps (Exit 44).


Early morning Saturday: Where do you think you're going? Yeah, I don't think so. Don't you get it? No driving! Go back inside your house and watch television until Wednesday. Go on now.