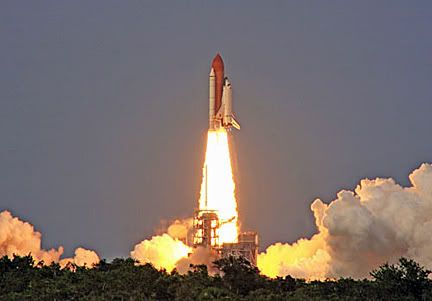 Well,
the space shuttle finally took off
.
A lot of my friends, and mostly everybody who lives here in Florida are very excited. I think it's nice too. But I'm sorry, I'm just not that into the space shuttle.
Dear God, I hope I didn't just start the kind of shitstorm I got the last time I expressed less than 100% enthusiasm for something. If it's any consolation, it's a shortcoming on my behalf, nobody else's. I recognize that it's something I should be more excited about. They're going into space, for crying out loud. That in itself is cool, just from a daredevil standpoint. Also, I'm from the first generation of kids who grew up watching lunar landings. I should be all about galactic exploration! What the hell is wrong with me?
I think it's because nothing ever really happens when they go into space. I don't mean a disaster. I don't want to see anything like that. But we pretty much know they aren't going to encounter any aliens, hostile and armed with laser guns or otherwise, and there aren't any sentient robots wandering around firing off snarky quips like a mechanical Oscar Wilde. I blame Star Wars for raising the bar too high.
Please address all hate mail to George Lucas.