Saturday night at the Rays game was a special "Turn Back The Clock" promotion, celebrating the 1990s. If you think it might not be easy to stir up a lot of nostalgia for the '90s, you'd be right. For one thing, it wasn't that long ago. Seems like you need a buffer of about 20 years before the warm and fuzzies kick in. Secondly, compared to other decades, the '90s were kind of light on cultural milestones. No Woodstock, no Watergate, no World War (at least in the classic sense). Third, the Devil Rays (as we were known then) were brutally awful until two years ago. But when it comes to history, the '90s (and only two years of it) is as far back as the Rays, Devil or otherwise, go. So they threw on the old uniforms and took on the Oakland A's. Here are some pictures...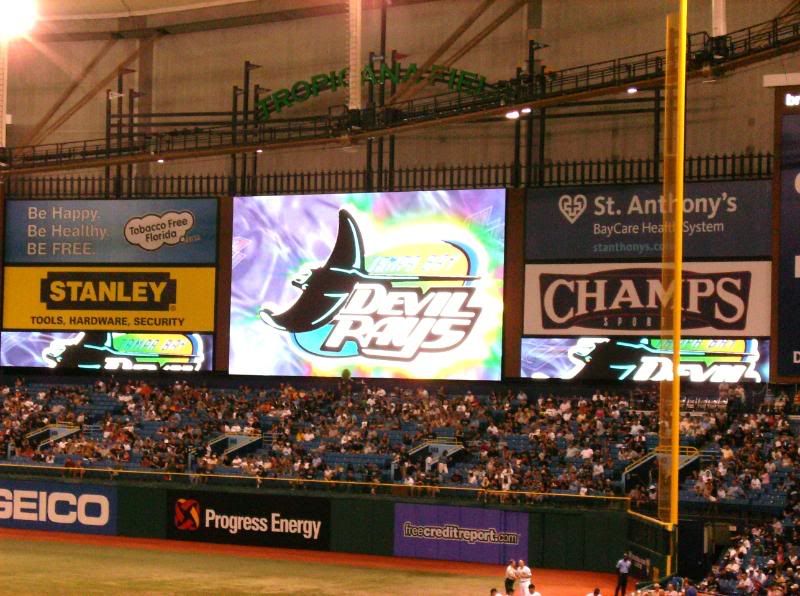 It wasn't as strange as I thought it would be to walk in and see the old logo on the Jumbotron. Like I said, it hasn't been that long. Our original logo looked like a drop of oil in a puddle of water and consisted of the spectrum of colors between purple and fluorescent yellow.
Here are a couple of girls in retro '90s fashions. Notice the flannel shirt? That's how you can tell.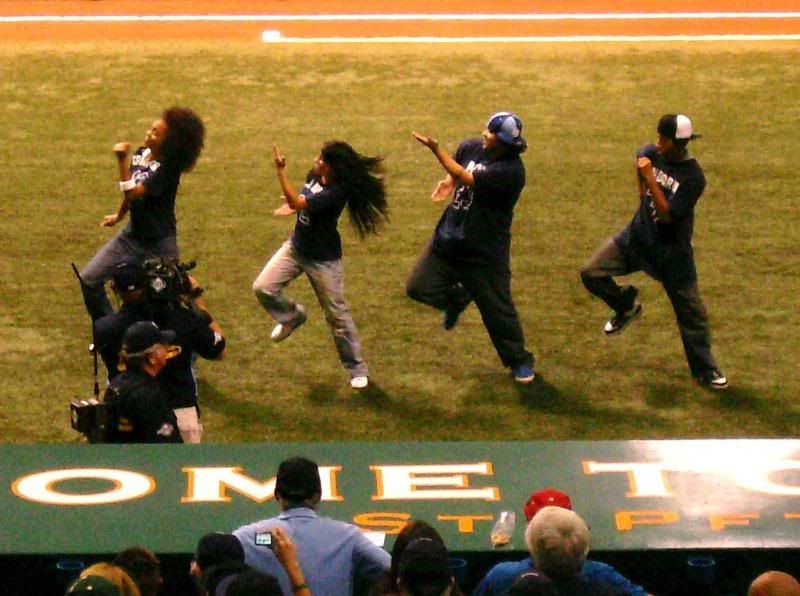 This is pre-game entertainment from a dance troupe performing to Kriss Kross's "Jump". Yes, they have their clothes on backwards. Remember Kriss Kross, the little hip-hop kids that wore their clothes backwards? There you go.
Here are the five Rays (Matt Garza, Ben Zobrist, Evan Longoria, Carl Crawford and manager Joe Maddon) that were selected to go to the All Star Game in St. Louis, wearing their retro uniforms. When the team wore these uniforms all the time, if you had this many Tampa Bay players in one place talking about what they would be doing during the All Star Game, they were probably organizing a fishing trip.
When I worked for the team, shadowing Raymond the team mascot as his bodyguard (seriously), cotton candy vendors didn't want to get this close to me. That's because one of Raymond's favorite gags was to attack these guys, steal all their cotton candy and give it to fans. Everybody thought it was hilarious except for the cotton candy vendors who had to pay for it out of their pockets (seriously).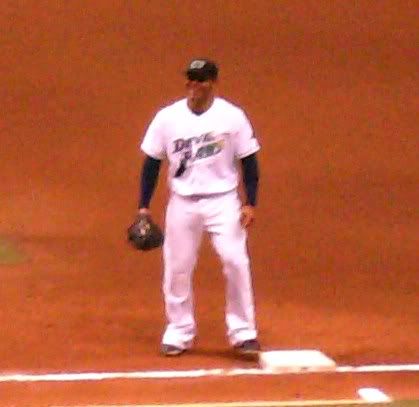 Here's Rays first baseman Carlos Pena looking very happy. I don't know if he'd just gotten the word that he was being added to the All Star team (replacing Boston's Dustin Pedroia) or if he's just delighted that they only have to wear these uniforms once.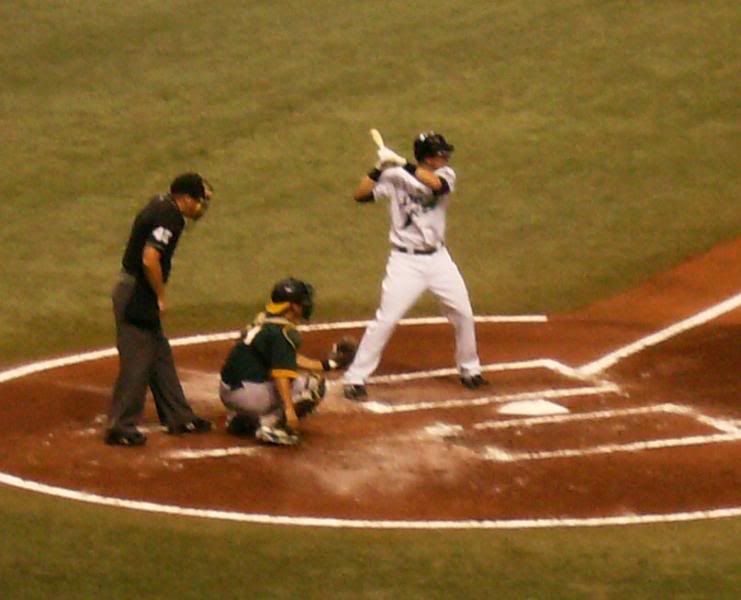 This is Ben "Zorilla" Zobrist who has emerged as my favorite player. He plays seven different positions, is hitting .297 with a .414 on base percentage, 17 home runs and 11 stolen bases. He also once hit a six run homer off of Chuck Norris and spends his days off from baseball building hospitals and teaching dogs how to fly.
This is a picture of either Joe Maddon's twin brother or Joe himself filling in as an usher after being ejected from the game for arguing with an umpire.