If you're on a budget and in a hurry, and who isn't these days, frozen food can be pretty darn tempting. It's cheap, easy to prepare and you can buy in bulk and throw it in the freezer until you need it without worrying (much) about it going bad. And these days, there's actually a pretty wide variety of food items to choose from. You used to be limited to chicken, pizza, fish and so-called

tv

dinners, which were usually either meatloaf or

Salisbury

steak (I believe "

Salisbury

" is

Latin

for "godawful"). Well, no more! Look what I found at the grocery store yesterday:
Six full size frozen cheeseburgers for the low, low price of $5. Not bad, eh? Look at the individual items inside the bag...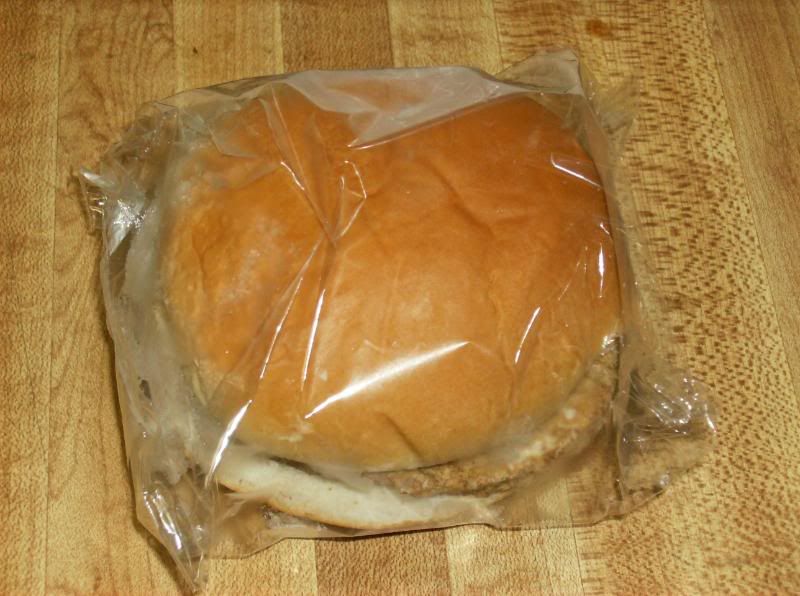 Don't turn away! Look at it! I said LOOK AT IT! You recognize that don't you? Remember that night, out on the road, very late, all the "real" restaurants were closed. You stopped at a convenience store off the interstate for gas and to use the restroom. You were hungry and wanted something more than a bag of chips. That's when you saw the individually wrapped burgers in the freezer. They called to you, didn't they? It sounded like they were singing. Such a beautiful song, so beautiful. They made you want one. So you bought one, you heated it in the store's filth-encrusted microwave, you squirted some ketchup, mustard and mayo on it and you ate it. YOU ATE IT! And you told yourself it was good. Hell, depending on how tired and how hungry you were, you might have even believed it was good, that it was the best thing you had ever put in your mouth. But you didn't feel good about it afterwards, did you? No, you didn't. So ever since, you've tried to forget about it. And some days, you're able to pretend like it never happened...even though it's never really gone, is it? Not completely. Not from your memory...or your colon.
Yeah, you recognize it now, don't you?

Let's look closer:
Maybe "full" is

Latin

for "not very big"? And what's that inside the package, up on top there? let's open it up and see....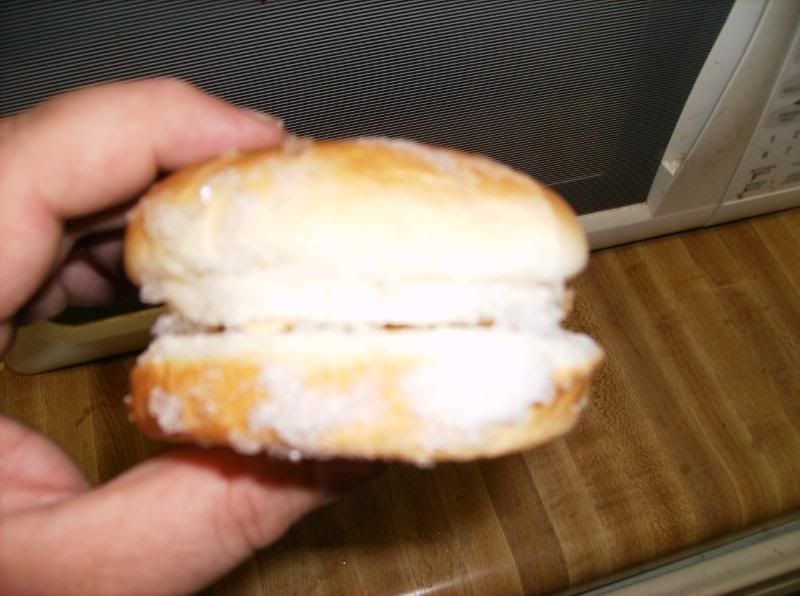 It's caked in snow! How does that happen? That's a little weird...but not as weird as the cooking instructions (or as weird as how my microwave looks like a Magic Eye picture in this photo)...
Remove the cheeseburger from the package

(well, duh)

Wrap the cheeseburger with a slightly damp paper towel

(how exactly does one "slightly" dampen a paper towel? If I apply any water to a paper towel, it's going to become soaking wet immediately. That's it's job. The only way I can think of is to soak the paper towel 24 hours before I want the cheeseburger and then leave it laying out on the kitchen counter over night, which kind of blows up the whole convenience factor, which was at least 50% of the appeal when I bought the stupid things in the first place)

Place in the microwave oven, bun top down, heat for 65 seconds on LOW [50% power]

(Wouldn't that actually be MEDIUM?)

Turn the cheeseburger over [bun top up]

(well, duh again)

and heat for 65 seconds on LOW

(If the heating instructions are exactly the same, what difference does it make which side up goes first?)
If you follow these instructions, what you get after 130 seconds looks like this: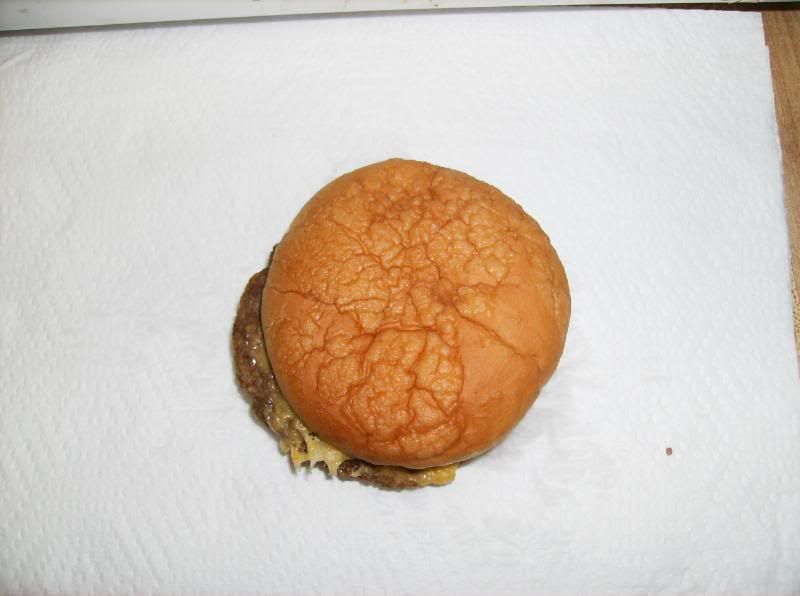 Mmm-MMM! Just look at that shrivel-ization! Kind of looks like a brain...or, um, some other body part, doesn't it? Go ahead, pop that in your mouth now!
Or just shell out a couple of extra bucks and get a Home Run Inn frozen pizza. Best. Frozen. Pizza. Ever!! Add just a little extra cheese and you're in business. Seriously, it's really good. All stores don't carry it (the ones around here don't stock it all the time) but it's worth the search. I give it my highest rating; Five somethings out of whatever.