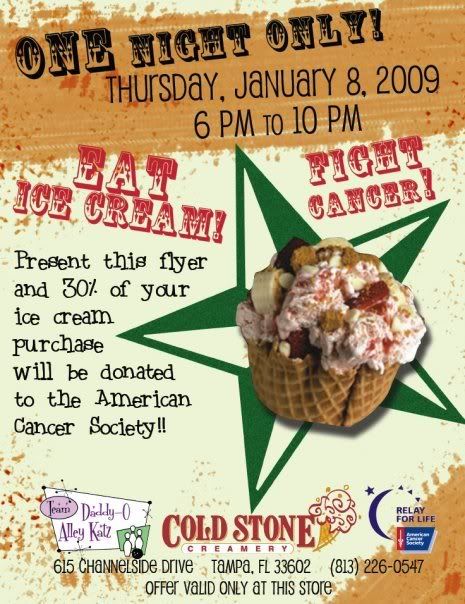 THURSDAY, JANUARY 8, 2009
Visit the Channelside Cold Stone between 6 and 10 PM with one of our flyers and 30% of your purchase will be donated to the American Cancer Society. No extra charge, just a percentage of the money you would spend on delicious ice cream anyway gets donated to our Relay For Life team. How great is that? Contact me if you'd like a flyer...or look for me in the vicinity of Channelside and the St. Pete Times Forum. Trust me, I'll be easy to find. Just look for the idiot with a megaphone. Oh yeah. I do indeed have a megaphone.
If you want to see and learn more about what is happening art-wise in the city, meet new interesting people and enjoy talking about the local scene, don't miss this tour!"
The last Tour of the Arts was a blast! We saw functional studios and galleries in converted cigar factories and other places I've driven by a hundred times with no clue as to what was going on inside. Who knew?